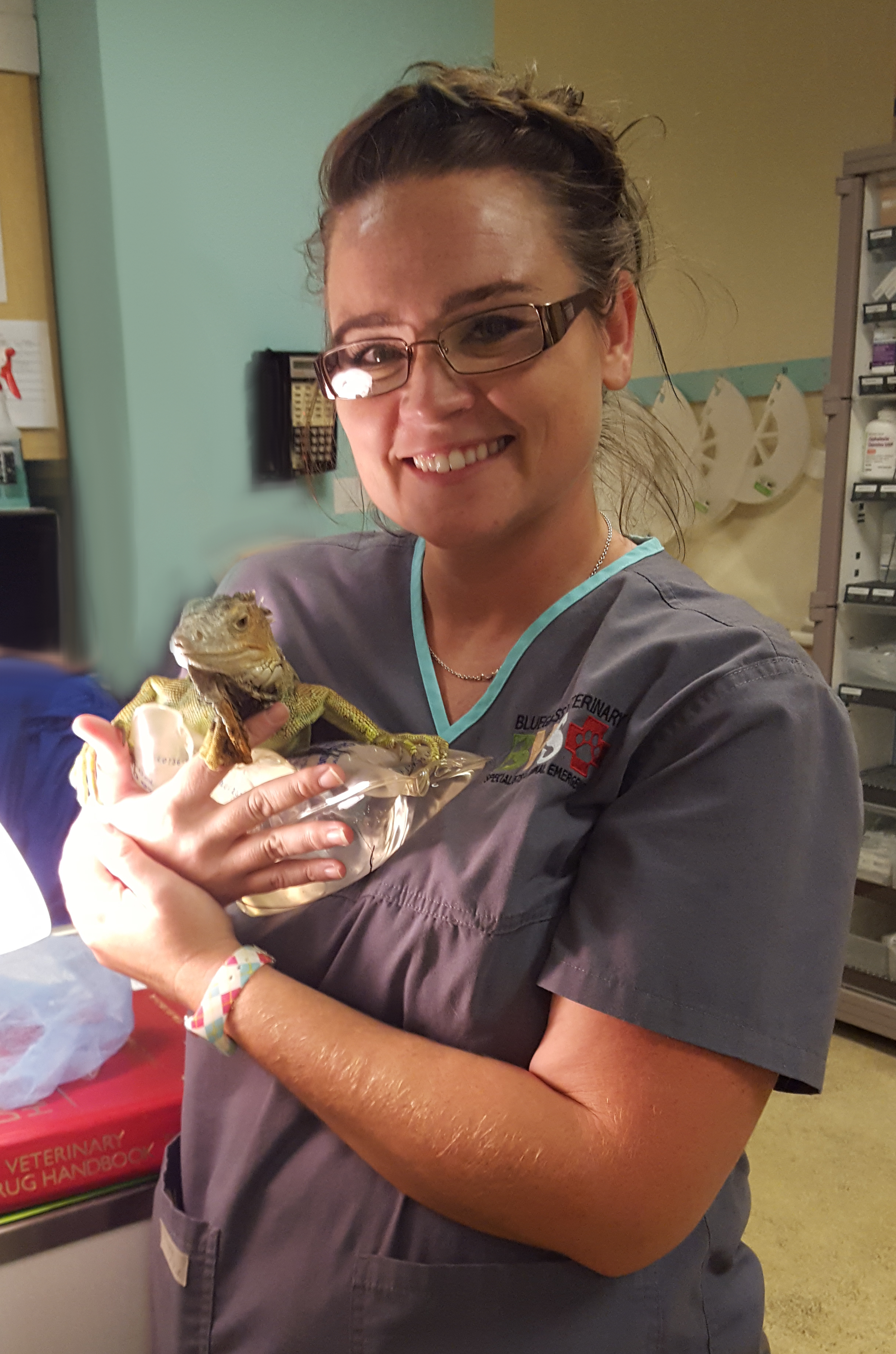 While Working in small animal emergency medicine, you always had to be on your A++ game! Every night was something new, and it was exciting. This guy coming in was no exception, he was extremely ill, and we did everything in our power to help him out even though reptiles were not in our everyday wheelhouse.
He seemed to appreciate it.
Animals have always been a huge part of my life, we had dogs and cats, and I would seize anytime I could get to a barn or be around a horse. I remember learning to walk by holding on to our German Shepherd, Shadow's collar as he drug me around the house until I figured out that my legs were useful for something. He was a fantastic teacher and guardian, very kind and gentle, and it was he that led me down the path I have taken throughout my life.
Veterinary medicine was my original calling; I started early studying and prepping myself for vet school. One of the requirements is to have experience in the veterinary field, so I did just that at a local veterinary emergency clinic. I fell in love with being a technician and from there never looked back. I made sure to embrace all aspects of the industry, from emergency to zoological exotics. Horses were always a draw for me, and what better place to be than in Kentucky? None, I moved up from Tennessee and continued my career at one of the largest equine hospitals in the nation. I was there for almost 10 years, and it was one of the best choices in my life, nothing else would have filled the void of combining horses and healing!
Though something was missing, I wanted to start incorporating my love for animals and my creative talents, so photography was the chosen outlet. I was living in one of the most beautiful places in the world, and thought what better place to start. With a little point and shoot Sony, I went to the farms on the back road and started photographing everything from the landscape to the horses. This was not anything other than a creative hobby, but I wanted more. I saved enough and graduated to a DSLR, the Nikon D90. Not only did I want to learn my new camera, but to be able to compose a photograph that brings the personality of the animal through the image. So I practiced, practiced, practiced, and took every opportunity I could to pick up the camera.
Over 10 years has passed since that little Sony awakened the photographer within my soul, I have significantly upgraded technology to a Nikon D500, and my skills have come very far from those first clicks of the shutter; my goal is still the same to not only capturing a photograph, but the emotion of the moment.